Rita Chahal
Bridging communities through teaching Indian culture as a way of dealing with culture shock
Executive Director of the Manitoba Interfaith Immigration Council – Welcome Place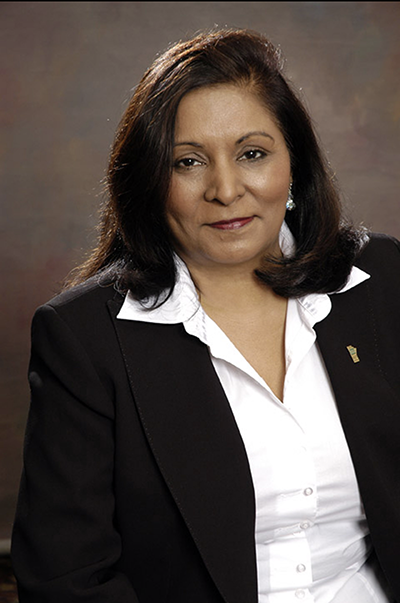 Country of Origin: India | Current City: Winnipeg
When did you move to Canada? & why did you move to Canada? How was your life like in your country of origin before you moved to Canada?
I immigrated to Canada with my parents in 1966. My Canadian connection began in India where I was born at Maple Leaf Hospital. Delivered by a Canadian doctor who was working as a missionary in Northern India. I went to a British school and my family were members of the Anglican Church. There was a lot of influence from both the British and Canadian missionaries in our lives in India. In addition to our Canadian connection, a Canadian woman adopted my father as a child. When my father learned about her, he decided to come to Canada to know who this wonderful woman was. We arrived in Newfoundland in the winter of 1966 and then flew to Halifax where we stayed at Pier 21 for a few weeks before moving to and settling in Prince Edward Island (PEI) where my father had several job offers. My father was an accomplished teacher and a successful athlete in India and so he accepted a teaching position as a math, English and physical education teacher.
I grew up in PEI and later moved to Nova Scotia where I met my husband when I was studying at Dalhousie University where I graduated from  with a science degree. My husband got a job in Manitoba and so I moved with him. At first, I was upset with him for bringing me to Manitoba because it was very cold when we arrived. Nevertheless, here I am, we have been here for thirty-nine years and Manitoba has been our home since.
What was your first impression when you arrived in Canada?
I remember the plane coming down and I could see the tips of trees and the snow. I felt a familiarity of sort seeing the tips of the tree and the snow because I had seen that before back home in India. The overwhelming part was the fact that the snow was so much. I could also recall when we got off the plane and I was practically looking for 'Lumberjacks' because I had already read about Lumberjacks in geography class back home in India. I wanted to see Lumberjacks and I was looking everywhere in hope to see one.
What were some of the challenges you faced when you moved here?
My father got a job in a small community in PEI where people had never seen a dark skinned person before. It was strange to see people taking my hands, and rubbing them thinking that the color would come off.  People were also shocked to hear me speak English because they were expecting to hear me speak a foreign language. People in PEI had a different impression of East Indians based on the images they saw on TV. Therefore, we took the opportunity to teach them about our culture and the many opportunities India had.  My mother did not speak English well so often I had to interpret for her.
Was there any support from the community to help you integrate? If yes, what were they? If not, how did you survive?
The woman and her family who had adopted my father years ago was our main support system. She was a member of the Anglican Church in Charlottetown and so we got support from the church congregation. The church was very helpful in facilitating our integration in the community.
What do you miss most from your country of origin?
I miss the mountains the most. I also miss the homemade ice cream; you can only get it in the mountains. I also miss the fireplace storytelling and interactions with my relatives. I miss the stories my grandparents used to tell me. Now, Canada is home and when I go to India, I miss Canada.
Since coming to Canada, have you visited your country of origin? What was your first impression of going back? How did it feel?
Yes, and I felt the hot air when we got out of the plane. It was, however, wonderful to go back home to see the mountains and my grandparents.
What was your occupation in your country of origin and what is your occupation here in Canada? What have you accomplished so far and aim to in the future?
I was a grade 6 student when I arrived in Canada. I was admitted to a new school and even though, I passed the qualifying examinations for grade 7, the principal said that I was too young for that grade. I was just 9 years and I could not speak French so, I was taken back into Grade 6. After graduation from University, I went to the University of Ottawa and took French courses.
My parents wanted me to become a medical doctor but unfortunately, I did not get in to medical school. We had a family business however; I wanted something outside the family. I ended up doing a couple of job interviews but eventually I thought I had to create a job for myself. I went into a program at Human Resources Canada where a female project officer advised me to become a hairdresser but I wanted more. I wanted to be a Human Resource Specialist and this got me a job at Red River College. Later I got a position at Manitoba Telephone System. I then worked at the Continuing Education Department of the University of Manitoba. After that, I got hired as an Executive Director at Employment Project of Winnipeg where I had once served on the Board.
Years later I was invite to be the Executive Director of Women in Media Foundation, my overall experience involved working with employment and career opportunities for women, immigrants, and impact of domestic violence in the workplace. I was involved with issues of the credential recognition when the provincial nominee program was introduced. Later I worked with Manitoba Chambers of Commerce and I was the first ever-General Manager.
At present, I am the Executive Director of the Manitoba Interfaith Immigration Council – Welcome Place, where we welcome refugees from all over the world to Manitoba  give them a new beginning. I would like in future to serve in some capacity in the civic arena so that I can continue to make my contributions towards the development of Canadian society by providing support for refugees and newcomers. I have been very fortunate Manitoba has afforded me great opportunities and I am very proud and grateful for all the opportunities.
What steps did you take to achieve the occupation you are currently in or previously held before you retired?
I did not wait for anyone to tell me what to do. I started creating my own opportunities. By doing that, I was able to connect opportunities. I was never afraid to ask for help. I always ask people I hire what they need from me to support them. I build on the strength of people and I always try to see the best in people. I rely on my executive assistant a lot and I believe a good relationship with your entire support team allows a leader achieve the goals of the organization.
My mom, (and grandmothers now passed away) are my mentors and role models, my sister children and grand children and the many women I have worked with are my inspiration.
How has your life changed since moving here?
My life has been fulfilling with rich experiences since I moved to Canada. I have been here for over 50+ years and I have done many things which I hope in some small way have impacted people and society. I would have ended up in the medical profession if I were to be in India. Here, I have been working with non-profit organizations and feel privileged to be part of a new journey in the lives of newcomers arriving in our province.
What advice would you give to newcomers in Canada?
Be very grateful you are in a country that avails you so much. Be open to suggestions and opportunities. Be open to genuine advice.
What advice would you give to people back in your country?
You need to take stock of your own strength and come to this country with an attitude of what you can give rather than what you can take. You should come with the intention of making Canada your home.
What advice would you give to Canadians on how to relate with immigrants?
At the end of the day, we all are same; we have the same struggles, hopes, and fears. Our country is based on simple values of love, compassion, peace and understanding. We need to ACCEPT each other for who we are rather than simply tolerate someone because we have to.
My personal guiding principle is of FAITH, HOPE and LOVE…… and the greatest of these is LOVE.