Monika Gislinde Palmer Feist
Been there…done that!
Chief Executive Officer of Success Skills Centre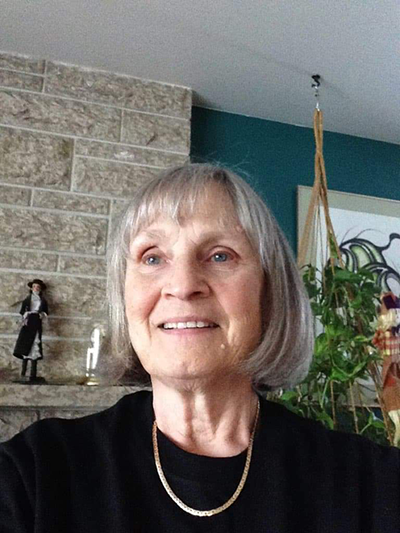 Country of Origin: Germany | Current City: Winnipeg
When did you move to Canada? & why did you move to Canada? How was your life like in your country of origin before you moved to Canada?
We moved from Germany to Canada in 1954, as housing was very restricted after World War II, and for opportunity to start a new life in Canada. We landed at the end of May. I was at that time, one month shy of turning eight years. Life was good for me as a young child in Germany. School was fun, creative and quite advanced in teaching and subject matter, compared to what I encountered in Canada.
At that time, an immigration officer (who I met many years later again when I worked for Employment and Immigration in the 70s) greeted us on arrival at the Winnipeg Canadian Pacific train station. He took us for a three-day stay to a place on Isabel Street, just across from the present Independent Jewellers Store. From there, he went with us by train to Minaki (Lake of the Woods), and then on to an island to work for the YMWCA summer at Pala Camp. On the train, he gave me my first English animal storybook, which I still treasure today.
I cannot recall how long we stayed at Pala Camp, but it would have been no more than three or so weeks at the most. We left before the agreed upon summer term because of the mistreatment of my mother in the kitchen by the cook, who treated her quite badly, calling her names (related to the Second World War). My mother refused to go back to kitchen because of the harassment, and my father was not prepared to stay, even though he was treated well, We went to the dock, because we could not speak English to say we wanted to leave. We sat on our suitcases to wait until someone would come to pick us up by boat. The person who was in charge of Pala Camp came down and tried to convince my parents to stay, to no avail.
That summer I learned to count to 10 in English and made friends with some children in the area. We played in the bushes of the Legislative building, ran around the sprinklers there in our bathing suits and slid down the cement railings of the Justice Building.
In September, I was placed into a Grade 1 classroom, even though I was in grade 2 in Germany and I had already been writing in script with ink, and doing multiplications and divisions.  On my first day at school, the teacher plunked down on my old desk a square board with green gunk on it.  It smelled and I didn't know what to do with it.  She showed me but I refused to touch it. It was the forerunner of what we now have as playdoh. We didn't get milk at recesses either, which was quite the disappointment. The school here was very poor compared to my German school, I remember thinking. And still do.
You may wonder why I am called Palmer. My mother and her girlfriend were raped after the war by American soldiers, which was typical of the invading Allied forces. My mother's plan was to give me up for adoption originally. At the time I was born, there just wasn't any place for children due to all of the destruction. There was a family that really wanted to adopt me, but then, my mother changed her mind and decided to keep me. Funny story about that: the family which wanted to adopt me twice tried to steal me from the Children's Home when she changed her mind. They had to get the police involved to get me back. I guess I was quite an adventuresome baby! The Children's Home in the city of Stuttgart was set up at the end of the war for children like myself, and for children who had lost their parents as a result of the bombings and the war in general. That is where I lived until I was four years old. Landlords were not friendly to small children, so my mother would visit me when she could on weekends.
My mother met my stepfather in 1950, through my grandfather (who was picked up by the Nazis and in a concentration camp from 1939 till 1945 because he was a political dissident to Hitler). My stepfather was released from Yugoslavia in 1949, where he was imprisoned as a German soldier for four years. He was one of the few that ended up left alive from his unit, because the majority were war revenge killed at the prison during the years between 1945 and 1949, contrary to international conventions. My parents married and he worked as a blacksmith at Mercedes-Benz (because he was a blacksmith back in Ukraine). He had joined the German unit when it came through Ukraine because the choices at that time were either going with the Communists (which had starved his family and others) or with the Germans. His brother got pulled in by the Russians, and to avoid them, my stepfather had hidden in their home's thatched roof. We lived in a town called Waiblingen in southern Germany, but in spite of his German ethnicity, he was still considered a foreigner. I think at the end of the day, they decided that they really wanted to make a fresh start in Canada. I am so glad that they chose to come to Canada.
What was your first impression when you arrived in Canada?
We arrived by the ship Arosa Star; it was about a five or seven-day voyage, with icebergs along the way. I guess the thing what impressed me most was when we got close to Newfoundland, everybody was on the deck. You could see the land and everyone said excitedly "we are here." Just seeing the land itself was very impressive. I think my parents were happy to get off the ship, because they were seasick all of the time.
I can remember our first day in Winnipeg when we went to get food at the store near our place, which at the time was a Safeway store.  My parents couldn't figure out what was in the cans, so my parents just picked up stuff as you would normally do, by picture. There was not as much fresh foods as we have today; there were a lot of foods in the cans. We were quite amazed that they actually canned chickens! The food was strange, we noticed that the food did not taste like anything we were used to; especially, there were no other spices added to the food, and it tasted bland.
The other thing we noticed was that people tended to be wasteful with their things. In terms of clothing, we were used to having few but good quality clothing, which we wore for a long time and that did not seem to be the case here. The rag truck used to go up and down the street at least once a month to pick up clothing. There were even competitions at school on who could collect the most rags. Money was paid to the schools for their collection.  One year, I won a baseball, which I think I still have.
Before we left Germany, I remember my grandfather carrying me on his back and talking about where we were going, to Canada and that they have 'Indians and tipees' there and all that. Of course, I was constantly looking for Indians and tipis when we landed, wondering where they were! Never saw any tipees. Then I heard about moccasins, so, my parents got me yellow moccasins in Minaki. And, there I did meet my first "Indians", who were not at all like the 'cowboy and Indians' stories I heard about. They were like you and me, just not "white".
What were some of the challenges you faced when you moved here?
My father found labour work very quickly. He ended up working at a place called Central Heating, which does not exist anymore. The company used to do steam heating for the houses. My mother worked at home sewing gloves by hand.  Language was a big challenge and it was a bigger challenge for my father than my mother. Once my mother started working outside the home, she very quickly picked it up. She went to Kelvin High School at nighttime for free English classes for immigrants. What was rather interesting about that was that her volunteer teacher ended up becoming my art teacher in grade 7!  Winnipeg is small.
We found when we spoke our language on the street, people would tell us to 'speak white'. I can remember being poked about that with my mother in front of the Eaton's store bus top. At my first school in grade 1, a grade 6 school patrol called me 'Nazi' all the time.  I did not know what that was. I remember going home and asking my mother what that was meant. She clarified that was many Germans during the war were called Nazis, but it was not a good thing. Anyway, one day he called me 'Nazi' again and I jumped him and beat him up, even though I was quite small. Because I had been called names, I really made a commitment to learning English really well.
I suspect most immigrants' times in Canada were/are difficult. You know you are dealing with the fact that you are living among people who may or may not want you necessarily in Canada. It was/is difficult especially, because of the language barrier and biases. When I was about 11, my father (more than my mother) wanted to go back to Germany because they had had a better life there. As they were planning to go back, I threatened them: I said, 'if you go back, I'm staying here. If I go back to Germany, the opportunities for me are not going to be there anymore.' And I think a lot of immigrant children face that even today. In the end, they changed their minds and decided to stay for the good of me, but not so good for them. Life was always tough in the sense of work, for my parents.
My father eventually started working as a carpenter and I helped him set up his own business. I put together some flyers to distribute up and down our street, and before we knew it, he started getting lots carpentry and other repair jobs. My mother was a photographer, and had more opportunities with her profession.
I was on top of the class in school with my with English courses and that was important to me, because I figured that I am not going to let them know that I am German. But I didn't realize that maybe people will just look at my name and know. One grade 4 teacher, a substitute for our regular teacher who was ill for several months, absolutely hated me, called me names and made my life miserable. Otherwise, I had mostly great teachers. Another reminder that hate doesn't go away with time was that before I married my former husband, a French-Canadian, who told me to never let his great aunt know I was German. I asked why and was told she lost a family member in the Second World War; that would have been well over 25 years after the war. I could empathize, but certainly never felt it was my fault!
Was there any support from the community to help you integrate? If yes, what were they? If not, how did you survive?
At that time, there were no organizations to assist us like the Immigrant Centre or Success Skills. And, just like for some today, informal or accidental connections provided help. When my parents came back to Winnipeg from Pala Camp, we walked along Main Street, and strolling towards us was a couple with a baby in a stroller; they heard us talking in our dialect. They stopped and started to talk to my parents in our German dialect. The husband was from Silesia and the wife was from Schwabenland (Swabia), the same region where we came from. They took us back to their place (a three-storey rooming house where the Robert Fletcher Building is now) and my parents rented a room and a half; I slept in the kitchen. In those days, they had gas stoves in rental units, in which you had to put money in the meter, in order to cook.  Aside from this family and another family in the house, we didn't know of many other Germans in Winnipeg, so we were on our own to figure out what to do.
What do you miss most from your country of origin?
As I mentioned earlier, in Germany, all school children got free milk every day; you would get tickets from your teacher and go to the milk window, and be able to choose between chocolate and white milk. I still can't believe that our governments in Canada don't understand the importance of milk (and calcium) in children's diet every day. When I had an opportunity in the mid-seventies to do publicity work with the Manitoba Minister of Health and my Deputy Minister for the start of the school breakfast programs in Winnipeg, I saw hope for change in Canadian thinking. Though, there's still quite a stretch to go.
I also missed 'Moscht'. It is made from apples, and would be called apple cider here. I loved drinking sweet apple cider with my grandfather; we had a routine. I had a special little glass (which I still have) and he would take it to the basement where he kept barrels of Moscht that he made. He would pour some for the two of us and we would sit across from each other drink and clink our glasses. I still think very fondly of those moments.
Since coming to Canada, have you visited your country of origin? What was your first impression of going back? How did it feel?
My parents found out, through the person who used to deliver milk to our house, that there was someone giving classes in German at the German House on Saturdays. I joined the classes at about Grade 4 and continued right through to Grade 12. As a result, I received a scholarship in high school to travel Germany for six weeks, along with a group of students going there. An organization from East Germany, which was trying to get East Germany united with West Germany, sponsored us. We landed in Frankfurt; seeing the city felt strange, simply because, the houses were a lot closer together than what we were used to here in Canada. I found that everyone seemed to be very busy, rushing somewhere, compared to the lifestyle we have here.
We had the fortune of meeting some of the mayors of different cities who invited us to celebratory dinnesr. What was unique about these is that they kept on serving us Wiener schnitzel.  By the time, we got to Berlin, after travelling from Munich north through East Germany, we figured everybody served schnitzel in Germany, all the time. While in Munich, we took the trolley and we were talking in English amongst ourselves. Some people made some snide remarks, and of course, we let them know we were visiting, and we could speak German! They were a little bit shocked that we understood them.
Before I came back to Canada from that trip, I went to visit my aunt in Stuttgart. What stood out for me was when one day, my aunt and I were walking along the street and we saw some dark- haired workers. She said, "oh those are Auslaenders" (foreigners), and I remember telling her that I also was an 'Auslaender' and that Germany was a foreign country for me now, having mostly grown up in Canada.
I went back two times, most recently two years ago with my daughter. I noticed quite a bit of change, and with the increased immigration to Stuttgart, the city has become quite international, as much and maybe more so than Winnipeg.
What was your occupation in your country of origin and what is your occupation here in Canada? What have you accomplished so far and aim to in the future?
At the university, I majored in Sociology, and minored in Political Science Psychology, and English. I was junior editor for the Paulinian at St. Paul's College, and after my second year of university, I was offered my first full-time job in 1968, as the editor of the staff newspaper at Great-West Life Assurance Company.  I worked there for about 18 months, as the work was repetitive to some extent, and I needed more variety, I went on to work in advertising, writing newspaper, radio and TV commercials with Beaver Lumber. At the same time, I also volunteered at Mount Carmel Clinic for several years. At the clinic, I provided advice and helped the pharmacist who dispensed birth control pills because they were free there; not so many doctors would recommend birth control pills in those days. Anne Ross was the director of the clinic and eventually became a family friend. At a New Year's open house at my home, she said she needed some staff for a term community development project. I was interested, was hired and became one of the four project leaders.  My team wrote a monthly community newsletter, did outreach at Winnipeg schools for teens to let them know where to get birth control and other related advice, went door-to-door to help people get healthcare services at the clinic, and made other community connections for the clinic. It was very rewarding work.
Later, as a volunteer teacher at the International Centre (now Immigrant Centre), I ended up meeting a Quebec filmmaker. She was crossing the country doing various films on different ethnic communities, promoting multiculturalism. She asked me if I was interested in working for the National Film Board, and I was subsequently hired for a term position as a multicultural community facilitator. I visited places in Manitoba and in Saskatchewan, met with ethnic communities, to find out what kinds of films their communities would like to see translated into their languages for use here and abroad. From there, I moved on to work as a term Mobile Information Officer for Information Canada in the Parkland Region (out of Dauphin). I was brought back to Winnipeg a year and a half later to head up the Communications Division, and afterwards, was offered to work for the Motor Vehicle Branch as its Public Affairs Officer.
Life is always interesting: due to politics not related to me, one day, my boss, the Registrar of Motor Vehicles, called me in and said that Highways Minister Peter Burtniak wanted to put his unemployed friend into my public relations job, and for my boss to ask me to resign. The Minister wanted to give me as much time as I needed to find another job.  I said I wouldn't resign; I had just finished re-writing the Driver's Handbook which hadn't been updated in the last 20 years, the new Truck Driver's Class One Handbook and pamphlet, produced the first Manitoba film on seatbelt safety (along with brochures, TV, radio and newspaper ads), and had done a good job with the recent the National Ministers of Highways Conference.  It was the first bilingual French-English conference that province in the country had organized, and I had received many compliments from Ministers across Canada. I hadn't been given the job because of connections and had competed for it fairly when it was advertised. So I said I would have to be fired.
I reached out to the union, but the union was of no help; the union guy was inexperienced and out of his element.  I then reached out to someone I had met while in Dauphin, who had said for me to contact him if I ever wanted to work for him in Winnipeg. He had become the Manitoba Assistant Deputy Minister for Communications. Subsequently, he intervened and shortly after, I received a call to come in to talk with Premier Ed Schreyer to tell what happened.  At the end, I was offered a job with the ADM as his Communications Consultant. The irony of it was that part of my job was to recommend approval the advertisements and budgets for all the departments, and the first one which came up was for the Motor Vehicles Branch, with the chap that replaced me…what karma!
While trying to deal with the previous situation, I also found the federal government Manpower Department's 1974 advertisement for a Women's Employment Coordinator for the Prairie Region, North-West Territories and Yukon and I applied. I got that job and left my provincial government position, which had been created through an Order in Council to accommodate the problem the Minister had created. It had been all too political for me.
I worked on federal programmes and policies for women and employment, helping build foundations for programs, some which still exist today. I am especially proud of my involvement in helping get the Immigrant Women's Association of Manitoba off the ground, the Women's Employment Counselling Services (then the Employment Projects of Winnipeg), Reaching Equality (REES), Success Skills Centre, and other courses and programs for women in  pre-trades, Mother's Allowance, and pre-employment courses for women returning to work after years out raising their families, and so on.
When my mother died of cancer in the mid-80s, I took a leave of absence and went to work with a friend of mine who was running a management company.  I wrote a training manual on affirmative action (now employment equity) and delivered that training across the country, in hospitals, some municipalities, and some private corporations, including the Manitoba Liquor Control Commission. I was training senior management staff on how to implement affirmative action.
Then, one day in June 1989, Judy Dalche (with whom I had worked with to establish Success Skills Centre while I was still with the federal government) contacted me because her husband was transferred to Toronto and she wanted me to take over her government contract to December. At that time the Centre was set up as a private for-profit consulting business.  After I finished her contract, Judy wanted me to buy the operation.  I told her I didn't need to buy it as I could set up my own, given my background, and having helped her get the organization off the ground. As well, at the end of the day, there was really no profit to be made, aside from a salary and expenses.
At the end, I paid Judy $10.00 for the name of the Centre, and Judy left $2,000 to carry on and ensure the survival of the organization. That is how I ended up with Success Skills. It is hard to believe that Success Skills is going to be 35 years old next year! Later, I converted Success Skills Centre into a not-for-profit.  Some of the people who have gone through our Centre's programs and services are all over Canada and the USA, practicing their professions. I am proud of them all. Quite a number from over the years still keep in touch with us and visit.
How has your life changed since moving here?
I think my life would have been much more of traditional life overseas – who knows! I suspect that probably I would have ended up working anyway on social issues of the day. I think that was my bend right from the start. I guess you know, when our teachers said we could do anything we wanted to do, I really believed that and that is the message we give to our clients as well.
What advice would you give to newcomers in Canada?
Simply put: You can be what you want to be; you must focus and not be all over the map. I often say you have to be hungry enough to want to get to your goal. We have some individuals coming who are not hungry enough, are running in all directions or do not put in the concentrated effort. Yes, you have to work hard to get to do what you want, but you can make it happen. When I look back on my own history, I had to work hard too; I worked as a mother's helper as a teenager, did call centre work selling magazines, cashiered and so on. I stayed up until 4 in the morning writing articles for community papers in the Parkland Region and Winnipeg; prepared reports and studies, and doing a variety of jobs over the years.
If you want something, I believe you have to work for it.  The odd person may have things handed to them on a silver platter, but not that often. I really do believe people can get back to their professions if they put their mind to it.
What advice would you give to people back in your country?
I think that they need to know that Canada is not the land of milk and honey. It is not as perfect as they might think it is, nor as it advertises itself. Canada has its own issues with its own peoples. More so, people need to know that when they come to Canada, it is not likely to be easy. It has never been easy for immigrants throughout the centuries. There are many hardships in establishing oneself in a new country. There are some who help, and some who don't. It is important for them to keep in mind that they also have the responsibility to help make Canada be a better country, and help it overcome some of its sins.
Nevertheless, opportunities are here for them. These may not be there on day 1, day 2, day 3, or the first years, but, the opportunities will come, if they want them badly enough, and they recognize the opportunities.
What advice would you give to Canadians on how to relate with immigrants?
Canadians need to read about other people's stories to gain an understanding of their lives and from where they come. They need to meet, mingle and become friends with immigrants. It will help Canadians in dealing with miscommunication or misunderstanding, cultural differences, and the differences in our upbringings, especially in work environments. My perception is that Canada is buzzing with opportunities; from the work we do at the Centre, we have many Canadian employers and individuals who want to work with immigrants and promote them. Our Winnipeg Connector Partnership with the Winnipeg Immigrant-serving agencies and the many Connectors volunteering to work with our clients are proof of that.