Jorge Fernandez
Happiest CEO in Winnipeg
Executive Director, Immigrant Centre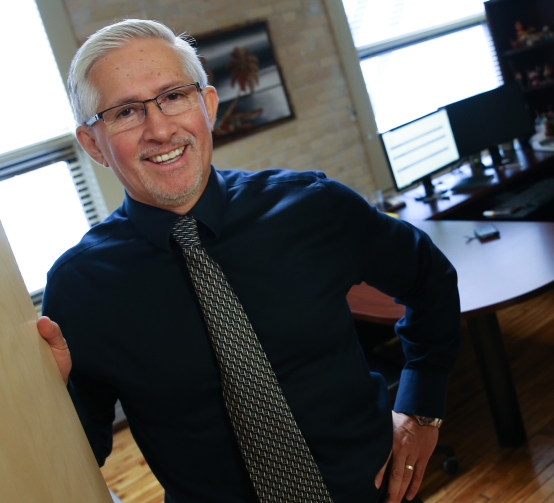 Country of Origin: Ecuador | Current City: Winnipeg
When did you move to Canada? & why did you move to Canada? How was your life like in your country of origin before you moved to Canada?
I arrived in Canada on June 15, 1985. The major reason for my moving to Canada was that I wanted to be with my girlfriend then, who is my wife now. My wife came to study at Red River College. So, I moved to Canada because of love. I got married to her here in Canada. Life in Ecuador, my country of origin was good. I am from a family of five children. I studied business administration back home and I graduated in May 1985. I could not work in my profession because I moved to Canada just a month after my graduation to stay close to my girlfriend then.
What was your first impression when you arrived in Canada?
When I arrived in Canada, my English was not good. My first impression was that people were willing to help others. Also, at school, the style of teaching was good where people were helping students to learn. I am very convinced that 'Friendly Manitoba' is true. I can say that people from Manitoba are the friendliest people in Canada. I enjoyed my first winter because I had a good time at the parks. Structurally, we have beautiful buildings back home but, I was rather shocked by people's question as to whether we have such buildings in Ecuador.
What were some of the challenges you faced when you moved here?
The first major challenge I faced was the language barrier. It took me one year to be able to speak English fluently. I was also not able to work for the first six months when I arrived. I came as a visitor to Canada through family sponsorship, and in this case, my wife sponsored me. I had no status at the early stages of moving here but getting my work permit and citizenship was not too challenging because the immigration department was very amazing. Interestingly, I was a visitor and I was able to go to school, nowadays, visitors cannot go to school.
Was there any support from the community to help you integrate? If yes, what were they? If not, how did you survive?
There was good support from my wife and my brother who was already living in Canada then. Many Chileans then too supported me. International Centre also provided supports as an organization that generally helps immigrants to settle down.
What do you miss most from your country of origin?
I miss my family most. In the early years of moving to Canada, I used to write letters to them, and it would take a month for them to receive them. It would also take me a month to receive their replies. My dad used to send me an Ecuadorian magazine and I remember how anxiously I waited to receive it. My mom was sad when I told her I was going to Canada but my dad encouraged me.
Since coming to Canada, have you visited your country of origin? What was your first impression of going back? How did it feel?
Yes, I have gone back to Ecuador five times. The first time was in 1990 and I realized how much I had missed home, missed my family and food in the first week but, by the second week, I was missing Canada. I was also happy to see the city of Quito growing from a population of one million to two million within five years since I left. The second time I went back to Ecuador, I took my two daughters along to visit. Everybody was happy to meet with them. My daughters could not speak Spanish but they realized that people were nice to them. My daughters always asked me why I left Ecuador and I always responded that I left Ecuador to be with their mom and to give them a good life. I am actually going back to Ecuador for our high school reunion where we will be celebrating 40 years since graduating. It is going to be a good experience meeting my old high school friends.
What was your occupation in your country of origin and what is your occupation here in Canada? What have you accomplished so far and aim to in the future?
In Ecuador, I was a student, and I had just graduated from university with a Bachelors of Business Administration Degree. For six months in Canada, I was unable to work so; I enrolled in school and courses in Human Resources and Accounting. I started working at the Immigrant Centre in 1993. At the Immigrant Centre then, I worked with immigrants, giving them orientations as well as, interpreting English and Spanish. I became the Manager at the centre in 2003 after ten years, and after 12 years of being the manager; I became the CEO in 2015.  Immigration Centre used to be the International Centre and became Immigration Centre in 2012. I always had a passion for helping people and an interest in working at the Immigration Centre since my first experience at the Centre. Working at the Immigration Centre is so fulfilling and I love it. However, before I started working at the Immigration Centre, I used to work at Princess Margret School as a teacher's aide. I worked at Princess Margaret School for five years; I worked with Spanish students as their interpreter so they could get integrated easily. What I want to accomplish in the future is to continue helping people and continue to do what I am doing, and making sure the necessary services are provided for immigrants and everybody that needs them.
What steps did you take to achieve the occupation you are currently in or previously held before you retired?
It took me twenty-six years to become the CEO of the Immigrant Centre. I am always passionate about helping people and I ensured that the necessary things are done correctly. I was committed to all I was doing. I started with working with clients and later worked with staff, then coordinating and liaising with other agencies, organization, and government. I understand that leaving one's country is not easy and so I believe parents need support. My passion is to provide such supports. I have the passion, which I always show in providing the required support to immigrants.
How has your life changed since moving here?
I will say that I am the same person, a friend, a co-worker, a good person, someone with that passion to help others I have always been. I smile, make jokes and I think I owe this to my mom who taught us that we have to be respectful to everyone, and I always reflect that in my day to day work and activities. If I were to be in Ecuador, I believe I would still be a successful person due to the support I will have from my wife and other people. The support I have from my wife is enough for me to be successful. I would most likely be a politician if I were to be in Ecuador.
What advice would you give to newcomers in Canada?
It is difficult when someone moves to another country. Newcomers have to ask for help, they need to visit different immigration organizations like SEED Winnipeg, N.E.E.D.S Centre, Immigration Centre, and Welcome Place, and many other organizations in the community they live in to seek information and see what services they offer.
In addition, newcomers have to believe in themselves, they need to believe they can achieve whatever they desire. More importantly, newcomers should make sure they have the education to prepare themselves for the future, dream, and work towards achieving their goals.
What advice would you give to people back in your country?
I advise people back home to move if their dream is to move to another country. They should study and become professionals in the field they want to work in. There are opportunities in their home countries and other countries they can also explore. Before they move to another country, they need to read about the new places they are moving to prepare them to live their lives as they dreamed.
What advice would you give to Canadians on how to relate with immigrants?
Canadians need to be open-minded and need to treat immigrants with respect as any other human.  People need to not see where people are coming from, their religion, or culture. See all immigrants and refugees as human beings like yourself who want to live a normal life, who dream, and desire to achieve certain goals in life. It is sad that the people that complain more about immigrants are immigrants themselves.