Canada is a Dream Come True.
Name: Jenniline Halina and Elvin Esperncilla
Country of Origin: Philippines
Current City: Portage la Prairie
---
We are a young family from the Philippines; we have two amazing children, a boy, and a girl. We are happy and lucky to be here in Canada. We enjoy family time, seeing our children grow and achieving our dreams together. We enjoy driving around to see more of this wonderful country.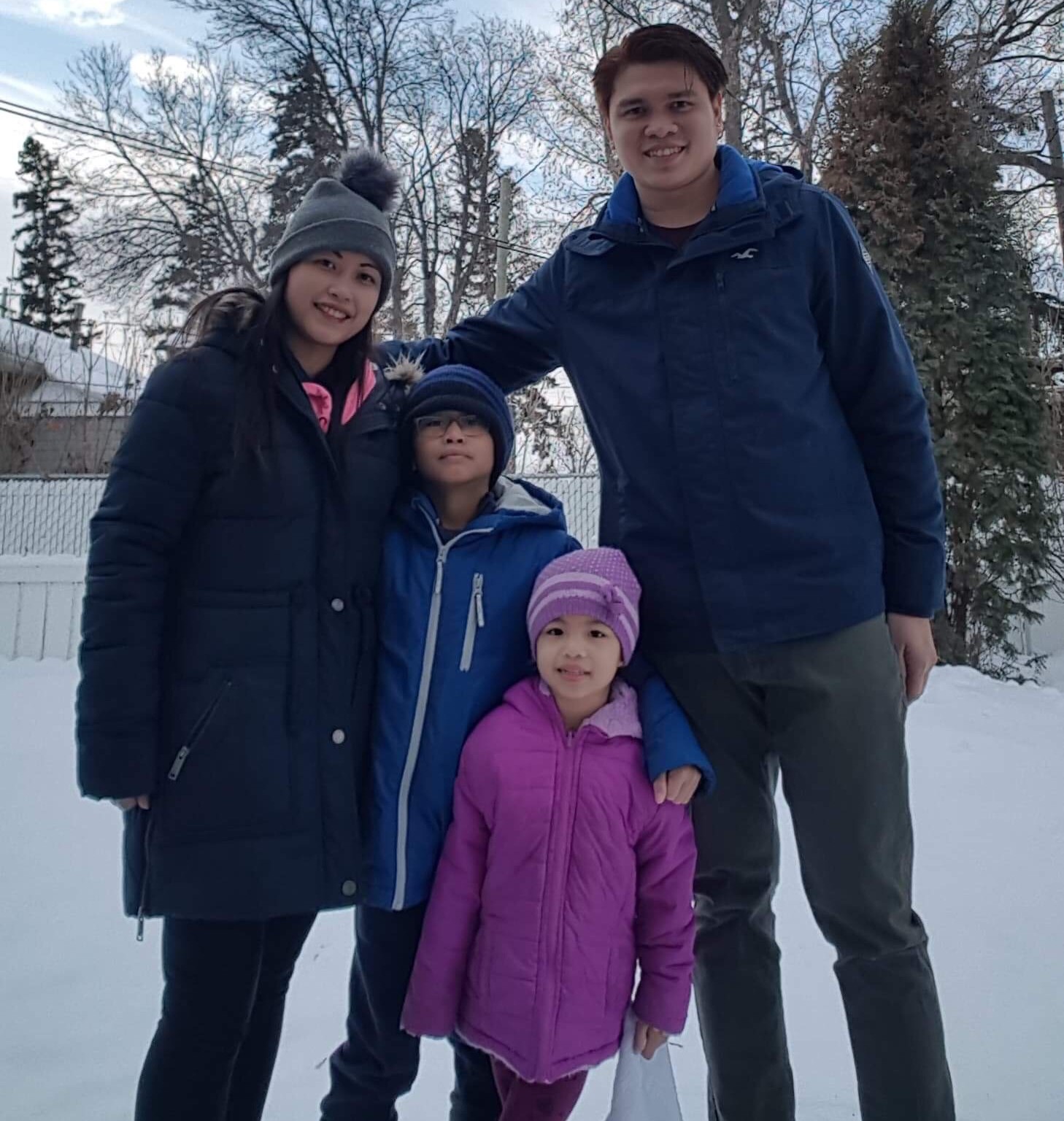 When did you move to Canada? & why did you move to Canada? How was your life like in your country of origin before you moved to Canada?
Jenniline: I came to Canada in December 2014 as a Temporary Foreign Worker.
Elvin: Jenniline applied for the Permanent Residency. Jenniline went through the Provincial Nominee Program and being that I am her husband and these are our children, we were named on the application as her family. We arrived in Canada in September 2017. I joined my wife in Canada for our family and children's future.
Jenniline: I moved to Canada as a Temporary Foreign Worker because life in Philippines life was hard even with the income my husband and I were getting. When I moved to Canada, I was thinking more about my family's future. I wanted to give my children a good future. I want them to fulfill their dreams, and I want them to become happy and satisfied with life, because when I was young our life is really hard all I have is my mom and my grand mom who took care of me while my mom is working out of town. I had to talk to my husband first, on how I wanted to work abroad, that I really want to try my luck in other country, so we can buy our own house too. So, I sacrificed for three years being away from my children, husband, and family.  I left my daughter behind at six months old, she was still a baby and it was really hard because I knew I will not be there to see her first steps, hear her first words. But now, all is good, we are finally all together.
What was your first impression when you arrived in Canada?
Jenniline:  My first impression was the weather is too cold, and a big country. I arrived in Canada through Toronto and I saw big structures, big buildings but, when I arrived in Portage la Prairie, it was such a small town with fewer houses. Ideally, I found Portage la Prairie to be such a peaceful place for me compared to Manila, the Philippines which is very crowded. The people in Canada are nice and friendly, I always heard them saying thank you, sorry, awesome, please and good job.
Elvin: I was very happy because we were finally going to live together as a family. It is a good country where our dreams are coming true and our children are going to have a better future. However, I was afraid because I did not speak English fluently, how was I going to go out and find a job and fend for my family.
What were some of the challenges you faced when you moved here?
Elvin: Language Barrier – I was afraid to talk to people because I was afraid of making any grammar mistakes. I understand English or the questions people ask me in English and I know the answers in Tagalog in my mind but to answer the question in English is a problem. Our first language is Tagalog but, we have been studying English now.
Jenniline: Language Barrier – Like Elvin, it is sometimes hard for me to express what I wanted to express or say in English. The language barrier hinders my job prospects because I am afraid that I can't do my job properly because of language barrier.
Family Separation – This was really hard because I was here alone and I was homesick. There were times I wanted to go home and be with my family. I wanted to leave my dream behind here and go back home to the Philippines. Being far away from my family was by far the hardest thing, prayers and not losing hope makes me stronger every day.  I still feel homesick for my mother, my siblings and everything in the Philippines.
Was there any support from the community to help you integrate? If yes, what were they? If not, how did you survive?
Jenniline: The Portage Learning and Literacy Centre helped us with our paperwork and they also offered us emotional support and connection. The literacy centre invited us to events in Portage la Prairie. They helped us learn more about Canada by going to hockey events even though it was too cold. Don Boddy used to work at the literacy centre, he taught me (Jenniline) how to skate. For emotional support especially whenever I had a problem, I would go to Don and Miriam from the literacy centre my friends and work mate they would always help me in so many ways.
What do you miss most from your country of origin?
Jenniline: I miss my family and friends, I miss being with them and I hope I can spend more time with them like before. I miss the marketplace. I miss the malls. I miss Christmas in the Philippines, from September to December, it is like Christmas time there.
Elvin: I also miss my family. I miss the food and my friends.
Since coming to Canada, have you visited your country of origin? What was your first impression of going back? How did it feel?
Jenniline: I went back to the Philippines in 2017 to get my family. It was the best feeling I have ever felt in my life. It was exciting and I am very happy, finally I can hug and kiss my kids again and I can spend some time with my family and the most important thing I was going to be with my family in our dream country, unlike other OFW (Overseas Filipino Worker) after their vacation they need to leave their family again and again, and that time I was praying that no more families that need to be separated, because I felt very sad for them. In the Philippines, traffic was still the same and, the weather was extremely hot, as I had been climatized to Manitoba weather. It was very hot and I was sweating a lot. I was not comfortable because of the weather when I went back home.  However, as a family, we have not yet gone back to visit our families.
What was your occupation in your country of origin and what is your occupation here in Canada? What have you accomplished so far and aim to in the future?
Jenniline: Back in the Philippines, I was a manager at KFC and I am a manager at KFC here in Portage la Prairie. KFC is the reason I am here in Canada. KFC bought a store here in Portage la Prairie, they hired the team leaders and shift managers from the Philippines and I am so lucky to be one of them, I was promoted as Junior restaurant manager 2 years ago, I am happy with my job, although it was very stressful sometimes and there's lot of challenges.
Elvin: I was a security guard in the Philippines and I am now a fabricator at Hi-Tec Industries Inc.
Future: Jenniline – I want to try something new, I want to study again and get a job with high salary in the future. I want to help more, my mom, my family back home. I am happy when they are happy. I want to get my licensed too. I want to sponsor my sister and bring all of my siblings here in Canada. Now my dream is to bring my mom here in Canada J
Future – Elvin – Right now, I have everything I ever wanted, my family and I love my job, we finally have our dream house, my brother is now processing his paper and hopefully my parents will come and visit us too.
What steps did you take to achieve the occupation you are currently in?
Jenniline: Luckily, I was hired by KFC from the Philippines.
Elvin: I applied for an apprenticeship program with Hi-Tec Industries. Upon completion of the apprenticeship program, I was hired and that is where I work now.
How has your life changed since moving here?
Jenniline : Life here is easier and better than in our home country, after a year being an immigrant we finally have our dream house, that we know we can afford to pay if we work hard, the problem is to managed our time, since we have kids, we need someone to take care of them while we are working. We can spend more time for our kids now because the travel time is only 10 minutes going to work and going back home, We have enough time for our children to play and us being around them. It's not really hard to adapt because everyone is friendly and there is institution like Portage Learning Center that will help us in case we need it. Our children are acquiring better education and learning English. Even though it is hard being away from our parents and families, we know we can still give our children a better future.
Elvin: A lot of changes have happened. We are so lucky to be here – Canada is a good country. Right now, we can get anything we want as long as we work hard. We can give our children a better life and it is safer here.
What advice would you give to newcomers in Canada?
Jenniline: Be well prepared, do your research and understand the country you are coming to. Be willingly to adapt, we need to prove that we are qualify for accepting the challenges and prepared to change if necessary. There is lot of struggles in your way just focus on your goals, go with the flow, and always think positive.
Elvin: Follow the law and do not do anything illegal. Also, get advice from newcomer organizations like the Portage Learning and Literacy Centre because they are the ones to help you. They are the number one centre for immigrants with a lot of programs.
What advice would you give to people back in your country?
Never stop dreaming, dare to dream but also dare to act. Don't let things happen to you. Go out there and happen to thing. Don't ever lose your hope, pray and trust god and he will guide you all the way.
If you ever dream of coming to Canada, learn how to drive and learn English to overcome the language barrier.
Additional information about Filipino community in Portage la Prairie, it has grown to over 200 to 300 people.